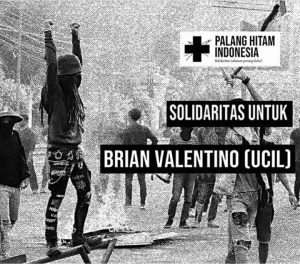 As I write this letter, I've been arrested for 21 days in Mapolda D.I.Y prison cell. I'm arrested for my involvement in May Day riot few weeks before. There's some difficulties that I can't really explain it here one by one, but I know for sure that this cells aimed to limit our access to communicate and therefore our further works for the network, a work that was meant to revive the spirit and consciousness to undermine every forms of obedience and submission. I believe we've agreed that it is not intellectual or academic potential that could raise the consciousness of our surrounding that is rapidly destroyed.
I wanted to give thanks to the comrades out there, those who keep their spirit high for rebellion and struggle and also their solidarity even the remote places.
There's not much I can write in this letter as the condition is quite impossible.
But one of the main purposes of this open letter is to warn all the comrades that the situation has escalated and it is urgent to act as more and more of our friends being arrested for participating in the May Day action.
All in all, I urge to all the comrades to increase awareness and planning, so that the future struggle would be more bigger, concentrated, and not easily defeated.
Because we know that revolution doesn't come from discusson to discussion.
I am very thankful for all the help from the comrades, especially for the legal aid that would give me choices in the front of the court.
Considering: The trial have been politicized by the rulling classes and the assumption that one of the political institution who are controlling public opinion. Thus, I give you this letter as an ask for help in the trial process.
Long Live the Resistance
Long live Insurrection
Alerta!
Brian Valentino/Ucil
—————————-
Sebagaimana surat ini terlampir, keberadaan kita telah masuk hari ke-21 dalam sel tahanan Mapolda D.I.Y terkait kasus May Day pada tanggal 1 Mei kemarin. Adapun beberapa kesulitan-kesulitan yang bukan tanpa arti yang tak bisa kuuraikan satu persatu, tapi bahwasanya jelas kerangkang ini mempersempit komunikasi serta segala rencana-rencana jaringan kerja yang telah dibangun berazaskan semangat untuk membangkitkan kembali semangat dan kesadaran untuk menolak kepatuhan dan proses hidup dalam ketertundukan. Kita telah sepakat bahwa tidak butuh kepintaran untuk mengerti dan sadar akan keadaan kita saat ini yang tidak sedang baik-baik saja.
Saya sangat berterima kasih kepada kawan-kawan di luar sana yang masih terus menggelorakan semangat perjuangan serta membangun segala bentuk solidaritas bahkan sampai dari pelosok-pelosok daerah.
Tak banyak yang bisa kutiliskan dalam surat ini, sehubungan dengan situasi yang cacat intervensi di tempat ini.
Adapun surat ini sekedar memberi gambaran bahwa kondisi kita lebih sangat URGENT seiring dengan penangkapan-penangkapan lanjutan para aktivis yang terlibat dalam aksi May Day tanggal 1 Mei di Yogyakarta.
Selebihnya saya hanya berharap kecerdasan yang lebih dan perencanaan yang mumpuni untuk suatu arah pergerakan selanjutnya yang lebih besar dan terkonsentrasi!!!
Karena Revolusi tidak tercipta dengan hanya sekedar berdiskusi!!!
Sehubungan dengan hal tersebut, saya sangat menghargai segala bentuk bantuan dari kawan-kawan, terlebih sangat mengharapkan pendampingan kuasa hukum untuk proses peradilan yang sudah masuk ke tahapan pelimpahan berkas ke tingkat kejaksaan.
Mempertimbangkan : Kondisi kasus persidangan yang notabenenya ditunggangi kepentingan politik dan asumsi keberpihakan kepada salah satu lembaga politis yang saya rasa sangat kontras tujuan gerakannya telah distrigmakan dari opini publik untuk kasus ini. Maka dengan itu saya lampirkan surat ini sebagai permintaan bantuan dalam proses keadilan yang dalam waktu tidak sampai satu bulan akan masuk ke tahap persidangan.
Panjang umur perlawanan!
Panjang umur Insureksi!
Alerta!
Brian Valentino