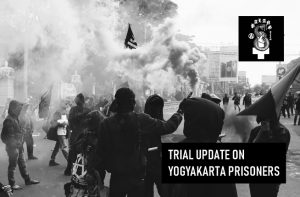 Informasi terbaru dari tahanan di Yogyakarta hingga saat ini, mereka dalam keadaan baik-baik saja. Walaupun kawan BV sempat mengalami sesak nafas dan keadaan sekarang mulai membaik.
Terkait proses persidangan yang begitu lama, khususnya persidangan kawan BV, AM, dan W, yang dimana pada tanggal 8 November 2018 persidangan sudah masuk pada tahapan persidangan pledoi (pembelaan terdakwa). Sebelumnya mereka telah mendapatkan tuntutan dari Jaksa Penuntut Umum maksimal penjara 10 bulan saat persidangan pada 1 November 2018 di Pengadilan Negeri Sleman. Saat ini mereka sedang berada di dalam Lapas Cebongan, Sleman menunggu untuk persidangan selanjutnya dengan agenda persidangan vonis pada tanggal 22 November 2018.
Perkembangan selanjutnya akan kami informasikan kembali.
SAMPAI SEMUANYA BEBAS!
_______________________________________________________________________________
Information update from the Prisoners in Yogyakarta as of now, they are as well as can be expected. Even though comrade BV is experiencing shortness of breath, and now it's beginning to get better.
The trial process is very long, especially for comrade BV, AM, and W. Those whose the trials already happened on 8.11.18 have already proceeded to the trials of pleading (defedent's defence), and before that they already receive the demands from the Public Prosecutor with a maximum penalty of 10 months at their trial on 1.11.18 at the Sleman District Court. At the moment they are being retained at Cebongan Prison, Sleman awaiting the following trial process with the agenda for the verdict to be handed down on 22.11.18.
We will keep updating information for you with further developments.
TILL ALL ARE FREE
More Information
Instagram: palang__hitam
Web: palanghitam.noblogs.org
Email: civilrebellion@riseup.net