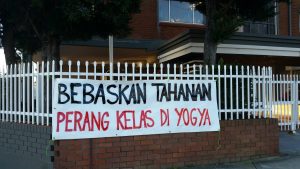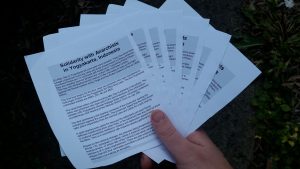 In the context of the annual week of solidarity with anarchist prisoners, some anarchists in Sydney visited the Indonesian consulate in Maroubra on Thursday the 23rd of August.
A banner is tied to the fence around the consulate reading: "Bebaskan Tahanan Perang Kelas di Yogya" (Freedom for class war prisoners in Yogyakarta). Dozens of leaflets were also distributed and scattered outside the embassy.
Anarchists in Yogyakarta has faced a wave of repression following the 2018 May Day demonstration, which saw flaming barricades in the streets, a police post torched and a call for the local Sultan to be killed.
Dozens of anarchists and class war comrades were arrested following the
demonstration and number of them are still in prison facing trail.
We wish solidarity and strength to all anarchist and revolutionary prisoners in Indonesia and worldwide